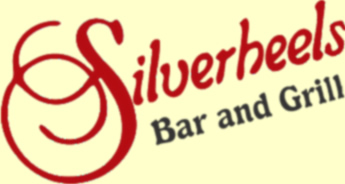 Silverheels Restaurant Review
Silverheels Bar & Grill
603 Main Street
Frisco CO 80443
(970) 668-0345




If you're in the mood for seafood try out Silverheels. Silverheels is located in downtown Frisco just 5 minutes from the Ski Silverthorne lodge. The restaurant is named in honor of a heroic dancer back from the gold rush days. This dancer used to entertain the heavy drinking miners by tap dancing on stage. Then there was a smallpox outbreak, which is how the Ms. Silverheels earned her place as a legend. To see the whole story of Silverheels, check out page 1 of the Silverheels menu.
Immediately when we entered the restaurant we bumped into the person who actually built the Ski Silverthorne Lodge. Please see the video below. Since it was a pleasant evening we opted to be seated outside. Above us were some radiant heaters that could be turned on in case it got chilly. Our server immediately greeted us and got the kids busy with some coloring. The adults decided to try a bottle of "Laughing Cat" riesling wine by Carlson Vineyards. The wine was high quality and tasted good.
For an appetizer we ordered what ended up being the hit of the evening, a bowl of seafood chowder. The kids attacked it like piglets at the slop trough! The two spoonfuls I managed to extract from the pillage reconfirmed to me why the kids were all over it. It was delicious!

After wiping out the bowl of chowder the kids settled on chicken strips from the child's menu and continued coloring. We ended up getting New Orleans trout and stuffed trout as our entrees. The New Orleans trout was blackened just like you would expect of a redfish or a snapper from New Orleans. The blackened trout tasted every bit as good, but it is not as large of a fish as a redfish or a snapper. The stuffed trout was smothered under creamy white sauce and laid upon a bed of stuffing. This was also very delicious while not as spicy as the blackened trout.

We have eaten at Silverheels probably four times as of the date of this review, and each time it has been great. Silverheels' consistency of good food and good service are what prompted us to at them to our list of things to do in Silverthorne, Dillon, and Frisco.
Click here to view Siverheels Restaurant entire menu
Check out the video we made at Silverheels:
To rent, call 318.272.0951 or e-mail