Silverthorne Recreation Center Review
Silverthorne Recreation Center
430 Rainbow Drive
Silverthorne CO 80497-5294
Phone: 970.262.7370

Only 1.4 miles (4 minutes) from our Silverthorne Lodge, the Silverthorne Recreation Center is located in the heart of Silverthorne Colorado. What's really great about this place it that it does not matter what time of the year you visit. Any time is a great time to go and have fun. 2014 pricing for the Silverthorne Recreation Center is shown below. We visit the Silverthorne Recreation Center every time we go to Silverthorne!
You wouldn't know it, but the parking lot and the front doors of the Silverthorne Recreation Center are located at the same level as the second floor. The facility is built on a slope which is why you get this effect. After paying our fee at the front desk and walking through a spacious lobby with benches and televisions, the pools can be seen through glass windows.
Boy were we surprised when we saw those pools. We've heard people talk about the Silverthorne Rec Center pools before, but we weren't expecting an indoor water park. The kids were so excited we they could hardly stand it!
Downstairs on the same level as the pools they have a changeroom and a sauna. After getting the kids into their swimsuits onto the slides they went! The water is heated to a nice temperature almost as warm as a bath. If you're looking for a hot tub you can walk to the pool in the back corner. This was the biggest hot tub I've ever seen! It could probably hold 50 people easily.
Basketball courts are located on the opposite side of the Silverthorne Recreation Center. Above the courts is an indoor track for jogging or walking. Just inside the circle of the track is a weight room in case you feel like getting a few sets in.
When returning to the pools I couldn't help but notice all of the people enjoying themselves. There were people exercising in the lap pool, there were kids and adults sliding down the huge spiral side in the corner, toddlers were walking in the wading pool and sliding on the big whale slide, and adults were relaxing in the huge hot tub.
Your time will be will invested if you make plans to visit the Silverthorne Recreation Center on your next trip to Summit County. Set aside half a day from skiing and enjoy this treasure while you're on vacation. Be sure to check out the videos at the bottom of the page.
The Silverthorne Recreation Center is only four minutes from our Silverthorne Ski Lodge. This is yet another great reason to stay in our centrally located townhome for your next Colorado ski vacation.
Silverthorne Recreation Center - 2014 Pricing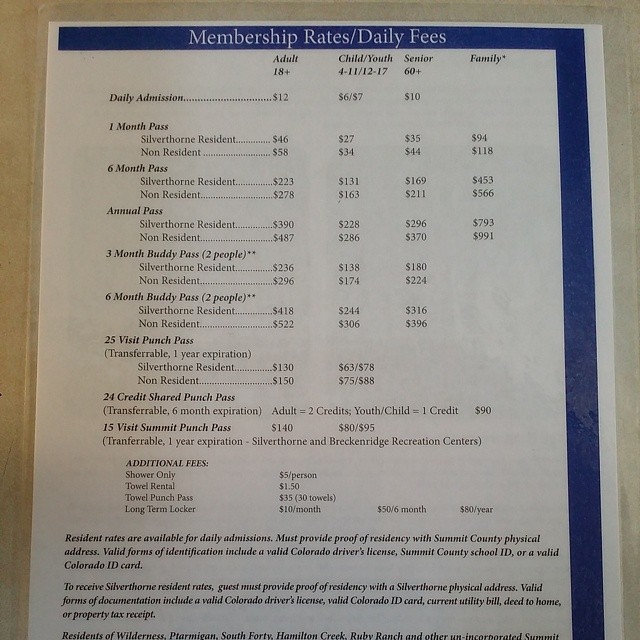 To rent, call 318.272.0951 or e-mail