What to Pack when Going Snow Skiing
How to Pack for a Successful Breckenridge Skiing Vacation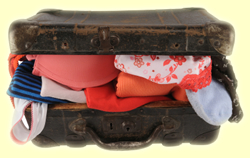 If you're planning on a weekend getaway to Breckenridge you'll definitely need to be prepared. Though the shops in the Breckenridge ski resort can supply you with items you forget at home, you'll save time and money by thoroughly planning out what you need ahead of time. Here's a list of gear to bring so you can enjoy your trip to the fullest.
Sun Protection
It's important to properly safeguard yourself against the sun when you're skiing in Breckenridge. Your lips and skin will be more susceptible to sunburn at high elevations, since the atmosphere won't provide as much protection against UV radiation. Good sunblock (NOT sunscreen) and lip balm are two of the most critical accessories to pack. Look into bringing some shaded goggles as well, especially if you'll be downhill skiing or snowboarding. You can get away with sunglasses, but make sure they're certified to block UV rays. Another pitfall of sunglasses is that they do not completely block the wind like goggles. Having constant wind in your eyes could cause irritation.
Pack the Right Clothing
Dress in layers. Pack tees and long sleeve shirts you can quickly put on or strip off to maintain a comfortable temperature. Turtlenecks are great for keeping your neck and chest warm. Although some recommend thermals, it's best to avoid wearing them. Thermal clothing will overheat you while you're on the slopes, absorb a lot of sweat, and will make you cold once you've stopped moving.

Many people worry about the type of socks that work best in ski boots. Some recommend thick wool socks on the premise that they'll keep you warmer, however it's a better idea to wear thin socks made out of a synthetic fabric. Your feet are more likely to get cold because of excessively tight ski boots that restrict circulation, than poor selection of socks. Wool socks also tend to retain moisture and will make you colder as the day goes on.
Wear Waterproofed Outer Layers
One would think this goes without saying, but it's not unusual to see novice skiers wearing jeans and flannel shirts, or other improper clothing, on the slopes. These kinds of clothes offer no protection from the wind, and will absorb water if you fall. You'll stay warm and dry by wearing waterproof pants and a skiing jacket.

Make sure to bring all other proper cold-weather gear: gloves (also waterproof if possible), hats, and neck warmers are ideal cold-weather sport accessories.
Lodging and Meals
Bring a map of the Breckenridge resort, Keystone resort, or wherever else you may be skiing. Ideally you'll want to have directions to the ski resort, a general map of the town, and directions to your lodge.

Speaking of your lodging, it's a great idea to bring along food and beverages to keep in your room. Dining out every meal gets expensive. If you're staying in a lodge or condo that has a full kitchen, (LIKE OURS!), think about bringing groceries and cooking your meals. Most rental town homes and condos will have pots, pans, forks, plates, glasses, and other common kitchen items so don't worry about bringing those items.
Your Pillow
If you're attached to your pillow you better bring it. There's no replacement for your favorite pillow!
Laptop Computer
Your skiing vacation won't be all about slicing the slopes. A laptop will come in handy if you're looking for different avenues of entertainment, or need to locate that restaurant you've heard so many great things about. It'll allow you to find alternative entertainment vendors in the Breckenridge area, and important information about the services they offer. When planning your trip make sure the place you stay has high speed internet. (Ours has both wireless and wired high speed internet). There are still many places in the Breckenridge / Keystone / Silverthorne area that do not have internet at their facilities.
Digital Camera
One of the most important things you can bring along is a digital camera. You can capture your fond memories of your Breckenridge / Keystone vacation, while avoiding the steep fees on-site photographers charge. Some of the views of the mountains are breathtaking.
Prudence in packing for your Breckenridge skiing vacation can make for the difference between a memorable trip and a miserable one. Pack accordingly!
To rent, call 318.272.0951 or e-mail