Make the Most of Your Vacation by Choosing Our Silverthorne Condo
Reasons why to rent our Silverthorne Townhome instead of staying at a resort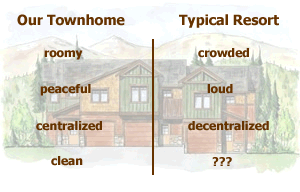 If you've ever had a vacation wrecked by second-rate lodging, then you know how upsetting an experience it can be. Before you reserve a slopeside condo, consider how renting our townhome for your holiday can help you avoid many of the nuisances of unsatisfactory lodging.
Slopeside Downsides
Finding ski-in lodging is tough. The ski season in Breckenridge and surrounding areas can get hectic due to their immense popularity as vacation destinations. Many hotels and ski-in condos are likely to be booked. Your group may not be able to find adequate lodging, or you may have to split into two separate parties. How will that impact how much enjoyment you get out of your vacation?
The convenience factor of slopeside lodging is notoriously exaggerated. Shuttles to and from the slopes can have you standing impatiently in the cold. The elevators at larger resort hotels can get so overwhelmed by guests that you find yourself waiting 20 minutes or more for elevators that never come. Picture walking down three or four flights of stairs in your ski boots while carrying all your gear.
Imagine your horror to discover you've been assigned a resort room next to drunken college kids on break from their classes - how are you going to ski if couldn't sleep a wink due to the kegger going on above your bedroom? Expect resort lodging to be noisy. If you've ever stayed somewhere with obnoxious neighbors or loud construction going on, you understand how torturous constant noise can be.
Since slopeside lodging is crowded, the employees that work in these locations are often stressed from being overworked. Asking for help and hearing a heavy sigh in response from an exhausted attendant is embarrassing and frustrating. The last things you'll feel like dealing with after a long day of skiing are long lines, aimless crowds of weary vacationers, and agitated resort employees sick of tourists.
The Sensible Alternative
Treat yourself a more enjoyable getaway this year, instead of throwing away money at predictably disappointing resort lodging. Renting our beautiful Silverthorne townhome will offer you a more memorable and rewarding experience when compared to cookie-cutter resort hotels or overpriced slopeside condos.
By renting our townhome you won't have to deal with the typical inconveniences and hassles of crowded mountainside resorts. Say goodbye to inadequate, distant parking lots and long queues for over-full parking garages. Parking in this townhome's garage will make it easy for you to load and unload your vehicles with luggage and ski equipment, especially if you're traveling in medium or large-sized group.
The townhome lies outside of heavy trafficked streets, yet is still in a conveniently located central location just 15 minutes away from Breckenridge, Keystone, Vail, Arapahoe Basin, and Copper Mountain. It's also a quick drive to exciting shopping centers and wonderful dining spots.
This townhome is set in a quiet, friendly neighborhood in Silverthorne that offers a spectacular view of the area. After a long day of fun on the slopes and fighting the crowds, nothing will feel better than retiring here in the evening to relax. As you prepare for a restful night of sleep in anticipation of tomorrow's excitement, it'll feel wonderful to stretch out on one of your four comfortable king-sized beds.
The townhome is fully furnished and spacious, offering abundance of room for groups both large and small. Don't feel like dining out? Enjoy cooking at home in our kitchen stocked full of all the equipment you need. You can use this townhome as your home base during your vacation, without having to agonize over the many annoyances that make mountainside resorts so draining.
We look forward to you staying here. Please get in contact with us today to request more information, check availability, and set up a reservation. You'll be glad you did!
To rent, call 318.272.0951 or e-mail